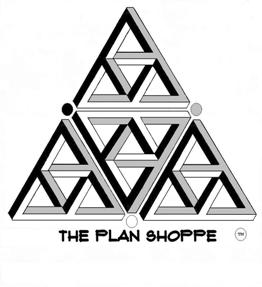 BETTER LIVING THROUGH APPLIED BUILDING SCIENCE
* * * * * * * * * * * * * * * * * * * * * * * * * * * * * * * * * * * * * * * * * * * * * * * * * * * * * * * * * * * * * * * * *
ARE YOU PLANNING TO BUILD A NEW CUSTOM HOME?
I Can Make Your Dream House Come True!
If you have a dream home in mind, I can make it happen!  I get the ball rolling!  If you don't yet know what you want, I can help you design one that will fit your individual needs and aspirations….custom fit to your lifestyle, your family, your budget, your tastes, and your site.  All successful custom home projects begin with careful planning, and I have been helping people organize their thoughts, define their needs,  and develop custom building plans for their new homes for forty three years now, so I bring a lot of experience and knowledge to the meeting table and I can help you develop your project too.
  TYPICAL SCOPE OF SERVICES
The Plan Shoppe's primary services consist of custom home design and drafting of construction working drawings.  However, since the construction of a new home generally requires more than just the plans to accomplish the many tasks required to complete the process, I also provide additional information and services such as project management, site inspections, site plans, site measurements, reviewing surveys, zoning requirements, building codes, ordinances,  and researching the snow load zone.   My additional scope of services also includes construction estimates, material lists, contract templates, construction schedules, bidding, interior design, landscape design, engineering coordination and permit acquisition.  Here is a list of work I can do for you to help you develop your project:
Custom Design and House Plans
for Conventional and Contemporary Homes
*
Material Lists
*
Construction Estimates

*
Plans for Remodels and Additions
*
Land Use Planning
*
Land Survey Coordination
*
Platting Process Coordination
*
Barrier Free Homes for the Disabled
*
Pole Buildings, Barns, and Framed Storage Buildings
*
Storage Units, Shops, and Garage Buildings
*
Accessory Living Units
*
Log Homes
*
Smart Homes
*
Off-Grid and Alternate Energy Homes
*
Solar and Passive Solar Homes
*
Earthships, Domes, and Alternate Shelter
*
Tiny Homes
*
Duplexes and Triplexes
*
Needs Analysis
*
RESCheck Reports
*
Site Selection
*
Site Inspections
*
Photography, Videography, or Artwork of Buildings
*
3D Renderings
*
Preliminary Square Footage Cost Estimates
*
Detailed Construction Cost Estimates
*
Bidding
*
Engineering Coordination
*
Permit Procurement
*
Contract Templates and Negotiations
*
Business Plans
*
Patent Applications
*
Websites
*
As Built Drawings of Existing Buildings
*
Field and Site Measurements
*
Presentation Drawings & Sketches
*
Conceptual Site Plan Renderings
*
Conceptual Building Plans and Elevations
*
Pro Forma Reports For Land Developers
*
Pro Forma Reports For Building Acquisitions
*
Building Inspections For Quality Assurance

*
Pay Request Reviews
*
Infrastructure Cost Estimates
*
Project Development Planning
*
Project Feasibility Analysis
*
Raw Land Development Analysis
*
Site and Access Analysis
*
Administrative & Public Meetings Representative
*
Zone Change Advocate
*
Project Scheduling and Critical Path

*
Mapping
*
Technical Writing
*
Due Diligence Research
*
Material Boards
*
Formal Project Presentations to Review Committees
*
Construction Administration
*
Project Management
Mission Statement
Global warming is a very real problem and it poses an immanent threat to civilization and our planet.  This site is dedicated to the promotion of sustainable alternative shelter and energy in an effort to slow the impact of global warming and the destruction of our world. I strongly encourage you to divest in fossil fuels immediately and support the problem solvers, not the problem creators.  Big Oil and Big Energy promote carbon emissions into the atmosphere and the impacts on climate change and the environment are irreversible.   Use of fossil fuels threatens future generations of mankind by creating an environment which will soon not sustain human life as we know it.  Global warming alters climate due to increased concentrations of  greenhouse gases in the atmosphere, which are increasing the temperature of the earth 4°C, and this is raising sea levels, slowing the gulf stream, impacting food production, fresh water, and accelerating the spread of famine and disease.   It is incumbent upon us all, as stewards of our planet, to raise our consciousness about this problem and spread the word and take action now to save our planet while we still can.  You play a vital part in this effort.  If it is within your power and authority, restrict or do not use fossil fuels as soon as possible.  Use this website to expand your knowledge of alternatives and promote all programs and businesses that increase sustainability and lower carbon footprints.
PORTIONS OF THIS SITE ARE STILL CURRENTLY UNDER CONSTRUCTION. 
SORRY FOR THE INCONVENIENCE.  PLEASE FEEL FREE TO EXPLORE MY BACK PAGES ANYWAY AND COME BACK SOON.
Tweets by @ThePlanShoppe
Home | Contact Me | Privacy Policy
No part of this website may be reproduced, copied,  or stored without the written permission from The Plan Shoppe. Any illegal Internet copies will be detected by Copyscape and reported.